Tewkesbury Buildings and Places
These articles are about specific buildings and places in Tewkesbury. They are divided into the three principle streets, High Street, Church Street and Barton Street; the alley's and courts connecting them and finally places elsewhere in the vicinity.
We hope to have deeds on every house eventually!
If you have historical deeds and would like to contribute them to our site, please get in touch.
Buildings and places on the High Street, Tewkesbury
Buildings and places on Church Street, Tewkesbury
Buildings and places on Barton Street, Tewkesbury
77 Barton Street
Visitors walking down the alleys which run from Barton Street to the Swilgate may sometimes pause to wonder how they came by their names. One such alley is Compton's, by the side of 'The Wool Basket', the shop which now occupies 77, Barton Street. It ...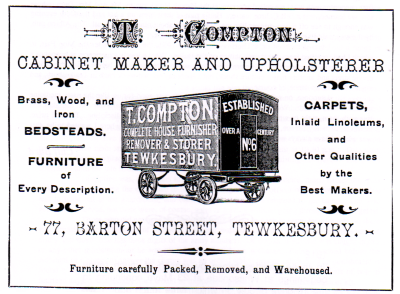 3 Barton Street, once The Globe Inn
At an auction in Tewkesbury earlier this year an item in the catalogue was described as 'Sundry Deeds '. It turned out to be a box of documents relating to No. 3 Barton Street. Having attended most of the local auctions, I was unhappy at missing ...