The Tewkesbury Historical Society
Welcome to our local History Society website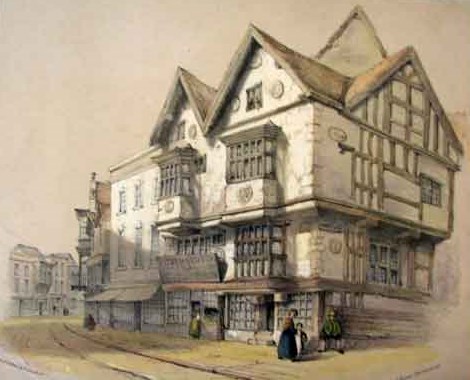 THS was formed in 1991 with the aim of researching and adding to our knowledge of the town of Tewkesbury. The Society meets monthly, usually on the third Thursday, at 7.45 pm in the Methodist Church at The Cross. At these meetings, which are open to non-members, invited speakers talk on some aspect of history. In addition, THS publishes books and an annual Bulletin of Research, to which contributions are invited. The Society also gives members the option of accessing online the Society's extensive Woodard Database of Local History data.
November Meeting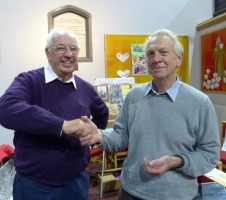 THS Life President, John Dixon, with Peter Dawson who gave an interesting and well attended talk on 'Burgage Plots in Medieval Towns' at our 15 November meeting.
John Dixon steps down as Committee Chairman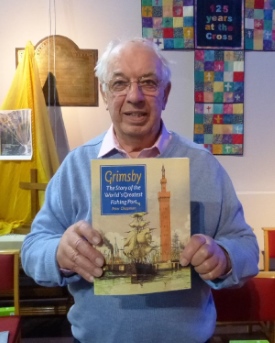 THS Life Member and Life President John Dixon who stepped down as THS Committee Chairman was presented with books at the May 2018 meeting. John was a founder of the Tewkesbury Historical Society and the leading activist fulfilling many roles, many of which he intends to continue. He has contributed to the Bulletin year in, year out and has won the Woodard Award five times as well as being nominated for the County Jerrard Award twice.
Remarkable Incidents Relative to Tewkesbury
1596. Poor strangers so greatly frequented this town, that a beadle was again ordered to walk the streets.
---
---
Bulletin 27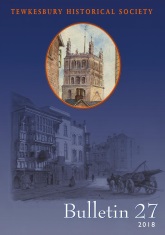 is available for purchase. Contents and Information,

---
---
Gloucestershire Local History Association
The Gloucestershire Local History Association includes representatives from many local history societies in the county, the county archives and local studies centres, and meets quarterly to discuss matters relating to local history in Gloucestershire. Details of events organised by the Association and member organisations may be found on their website:
---
Friends of Glos. Archives

---