The Tewkesbury Historical Society
Welcome to our local History Society website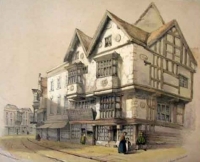 THS formed in 1991 to research and add to our knowledge of the history of the town of Tewkesbury. The Society meets monthly, on the third Thursday, at 7.45pm in the
Methodist Church at The Cross
. Society
Meetings
are open to non-members and speakers talk on aspects of history. In addition, THS publish books and an annual
Bulletin of Research
, to which contributions are invited. Members have the option of accessing online the Society's extensive
Woodard Database
of Local History data.
Bulletin 32
Bulletin 32 is now published!
Prices in the UK for THS Members is £10 (£8 + £2 p&p).
Non-UK Members is £12 (including p&p).
UK Non-Members is £15.
Non-UK Non-Members is £19.
(Note that p&p will rise after 3 April when Royal Mail are increasing their prices.)
You can purchase online via our
'Shop'
or you can order by emailing John Dixon on
presidentths@gmail.com
paying via BACS (John will supply details).
Do you have a Water Story to tell?

Researchers in water security and performance arts from University of the West of England (UWE Bristol) are collaborating in a pilot research project with actaTheatre (a community theatre group) and the Roses Theatre. The project aims to capture different people's stories about their relationships with any aspect of water in Tewkesbury. They are interested in how we share local water knowledge and the role of the arts in these processes.
They are keen to involve a variety of voices in the workshops. Everyone is welcome. They are hoping for people that can join them for four workshops, with the final workshop as a script reading, where they will invite a wider audience. No expertise in drama/theatre is needed – just a willingness to come and find out more.
February Meeting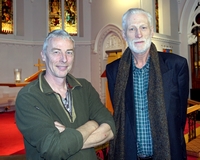 At our February meeting, Dr. Andy Moir gave an excellent talk on the Dendrochronology Project in Gloucestershire (dating buildings from timbers).
Results of recent Tree-Ring Dating for Tewkesbury Buildings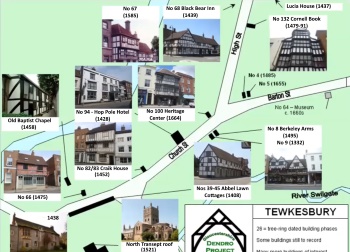 The results are in! During 2020 prominent Tewkesbury buildings were surveyed and tested for tree ring dates by Dr Andy Moir and his team at the
Gloucestershire Dendrochronology Project
. A fascinating talk was given on the 13th of March which can viewed on the
Friends of Tewkesbury Abbey website
. This extremely accurate process can give dates down to the season and since green wood was preferred by medieval builders, we can be fairly sure that the year they were cut down was the year (perhaps the next) when the wood was used to construct the timber frames and roofs.
1832 Cholera Epidemic in Tewkesbury

One of our members, Dr Peter Raggatt, who is a retired NHS Clinical Biochemist at Addenbrookes Hospital and Lecturer in Cambridge University School, was moved to research and write an article about this epidemic with its comparisons with the present pandemic. [see attached PDF above]
It links in with previous research on Cholera in Tewkesbury.
Such was the impact of these two epidemics on the town that a monument was commissioned which now resides in the Cemetery, adjacent to the 'Cholera Pit' where many victims received a mass night burial [see attached].
Although John Snow, clean water for the Mythe Waterworks and improved housing conditions have ensured that 1849 was the last appearance of cholera, the brutality which occurred in World War II Japanese POW camps caused the death of several Tewkesbury soldiers of cholera in 1943-44. Here is a biography of one of them, Frederick Key.
Smallpox was another medical curse of the18-19th centuries but by the late 19thC vaccinations were made compulsory and a significant number of people in Tewkesbury became anti-vaccination. For more on this familiar tale, see Martin Holt's award winning article.
History is always so topical!
Cemetery and Burials database for Tewkesbury
Over the years we have collated information from the various burial grounds in the town and now is the time to release a one-stop location for all of them on this site. The new
Burials Database
in our Research section tries to do this. There is also an
accompanying history and guide
to finding the resting place of persons buried in the town. There are currently an impressive 18,564 records. For the decades 1841 to 1881 we can also link to the
Census Database
(not guaranteed they are same people)
Two large scale maps of Tewkesbury from 1811 and 1880
We are proud to present two maps on our site using new zoom and pan technology.
We have the 1811 Enclosure Map of Tewkesbury and the huge 1:500 scale map of Tewkesbury created in the 1880s, both full of amazing detail. Use your mouse wheel to zoom and left mouse to drag.
Even more Census Data
We are pleased to announce that the Tewkesbury Census Data for 1841 to 1891 has doubled in size. We now have 37,608 people spread over 9,575 property records. Take
a look here
.
---
Remarkable Incidents Relative to Tewkesbury
1895. On 10th August: Regatta most successful ever in three and a half decades; 8256 people paid to see the regatta, athletics, water polo, show jumping, walking the greasy pole, parachute descent - and illegal gaming (dice)!
---
---
BALH Historic Towns Trust Spring Lecture Series
---
---
Bulletin 31
Click
here
for a preview.
---
Lionel Walrond
Lionel Walrond, curator of Stroud Museum 1955 to 1990, took many photographs of Gloucestershire. A searchable collection is available on the
GlosDocs website
.
---
---
---
1921 Census
The 1921 census will be published on FindMyPast on 6 January 2022.
---
Friends of Glos. Archives

---
---
---
---