News and events from 2020
Janet Benson (nee Martin)
We regret to announce that our secretary, Janet Benson, passed away on December 28th. This news is something of a shock to us all, even though Janet had been bravely fighting a long illness. She had been our secretary for many years and will be sadly missed by all her friends here in the Society.
VE & VJ Days 75: a Virtual Commemoration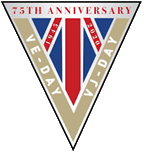 Even though the government moved the May Day Bank Holiday away from the usual Monday so we could commemorate VE75 on 8 May, all public commemorations are now impossible.
THS, however, wishes to remember all those from Tewkesbury who lost their lives in this war but, the 'silver lining' may be that we can split the Victory Commemorations in two parts and give more prominence to VJ Day on 15 August 2020 when the public might themselves have been "liberated". Thus, VJ Day has always been of secondary importance to the public: this is partly why those who continued after May to fight the Japanese dubbed it the "Forgotten War".

In this website's
World-War-II
Section we shall present
Biographies of all those who lost their lives fighting the Germans from the Tewkesbury area [including neighbouring villages]
The context of this war.
This is all based upon an updated version of the
2005 THS Publication "Never has so much been owed…"
which is now available digitally.
(First World War biographies and extensive other material can be found in the
World War I
Section.)
'The Making of Miss Brown'
Message from David Elder, author of joint THS Publication, Literary Tewkesbury
One of the projects I've been doing during these strange times is to write and produce a film version of a play about the life of Elizabeth Brown (1830-99) who was an accomplished amateur astronomer who lived in Cirencester.
The 30-minute film is called
'The Making of Miss Brown'.
It is viewable online for £3 from the Stroud Theatre Festival 2020 web site. To access it:
1. Please set up a simple account at
http://stfonline.co.uk.
2. Then go to Watch Now! (
https://stfonline.co.uk/watch-now/
). Please note it will be available for a 24 hour period after registration.
Further information about the play
Cirencester 1883: Like so many dutiful Victorian women, 52-year old Miss Brown lives a mundane life, caring for her sick father. There are bills to be paid, sheets to be washed and, fulfilling one of her father's duties, daily meteorological readings to be taken. As a devout Quaker she follows 'the light within', but, with her passion for astronomy, longs to see the invisible and explore the hidden depths of the universe. While some wing-clipped geese on her neighbour's farm seem like an accurate metaphor of her life so far, the dark clouds that constantly hug the Cotswold horizon look like a vision perfectly predicting her remaining days. Suddenly, Elizabeth's life changes, and she needs to decide whether to seek a life of comfortable mediocrity or chase her dream.
Bletchley Girls
Lou Beckett, a Gloucestershire playwright, has written a radio play, Bletchley Girls, based on a true story about two women codebreakers at Bletchley Park. It recently featured as part of the virtual Gloucester History Festival.
The play is made up of three 30-minute episodes and can be accessed free via Lou's website
https://www.loubeckett.com
(click on the Performances tab) or on Spotify (search Radio Plays Bletchley Girls) and other podcasts.
The website also has a fascinating 45-minute interview with Tony Comer, GCHQ historian, who advised on the play, and an on-line programme that summarises the historical accuracy of the play.
Bletchley Park Museum has created codebreaking workshops for children aged 11-14 to accompany the play.
Vaccinations
With the vaccinations against Covid in progress, it is interesting to look back towards a big controversy at the end of the 19th Century, when a number of people were taken to court for refusing to accept vaccination against small-pox for their children. Will history repeat itself?
Martin Holt
researched and wrote this article,
"
Irresponsible and Self Seeking Faddists" for THS Bulletin 13 [2004]
whilst he was a trainee history PGCE student at Tewkesbury School. As a result, he was given an award by the
British Association of Local History.
An Upsetting Discovery in our Cemetery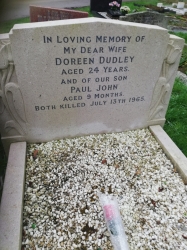 I was sent this photograph; the wording on the gravestone shocked my correspondent and she asked me to explain the full story. It is very tragic but we benefit from its legacy today. Click
here
to read the full story of the Dudleys. If anyone can add any more information, please contact us. [ John Dixon
presidentths@gmail.com
]