The Tewkesbury Historical Society
Welcome to our local History Society website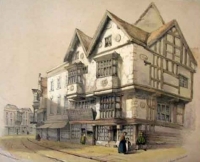 THS formed in 1991 to research and add to our knowledge of the history of the town of Tewkesbury. The Society meets monthly, on the third Thursday, at 7.45pm in the
Methodist Church at The Cross
. Society
Meetings
are open to non-members and speakers talk on aspects of history. In addition, THS publish books and an annual
Bulletin of Research
, to which contributions are invited. Members have the option of accessing online the Society's extensive
Woodard Database
of Local History data.
John Sidebotham (1946-2022)
The Society is sad to announce the death of John Sidebotham. He was brought up in Tewkesbury and wrote a book about the town and his life there,
Green and Pleasant
.
John died in October and you can read his obituary, written by John Dixon
Dowty Reunion
A Dowty Reunion Day was recently held in Cheltenham at the former Dowty Group headquarters - once known as Arle Court (now called The Manor By The Lake). A hardback book of photographs taken on the day is now available. The photographs show a stunning 1959 Cadillac of the type Sir George Dowty once drove and an early Daimler Vanden Plas of the kind driven by Sir Robert Hunt. Pictures of rooms that once acted as offices are breathtaking.
Puckrup Hall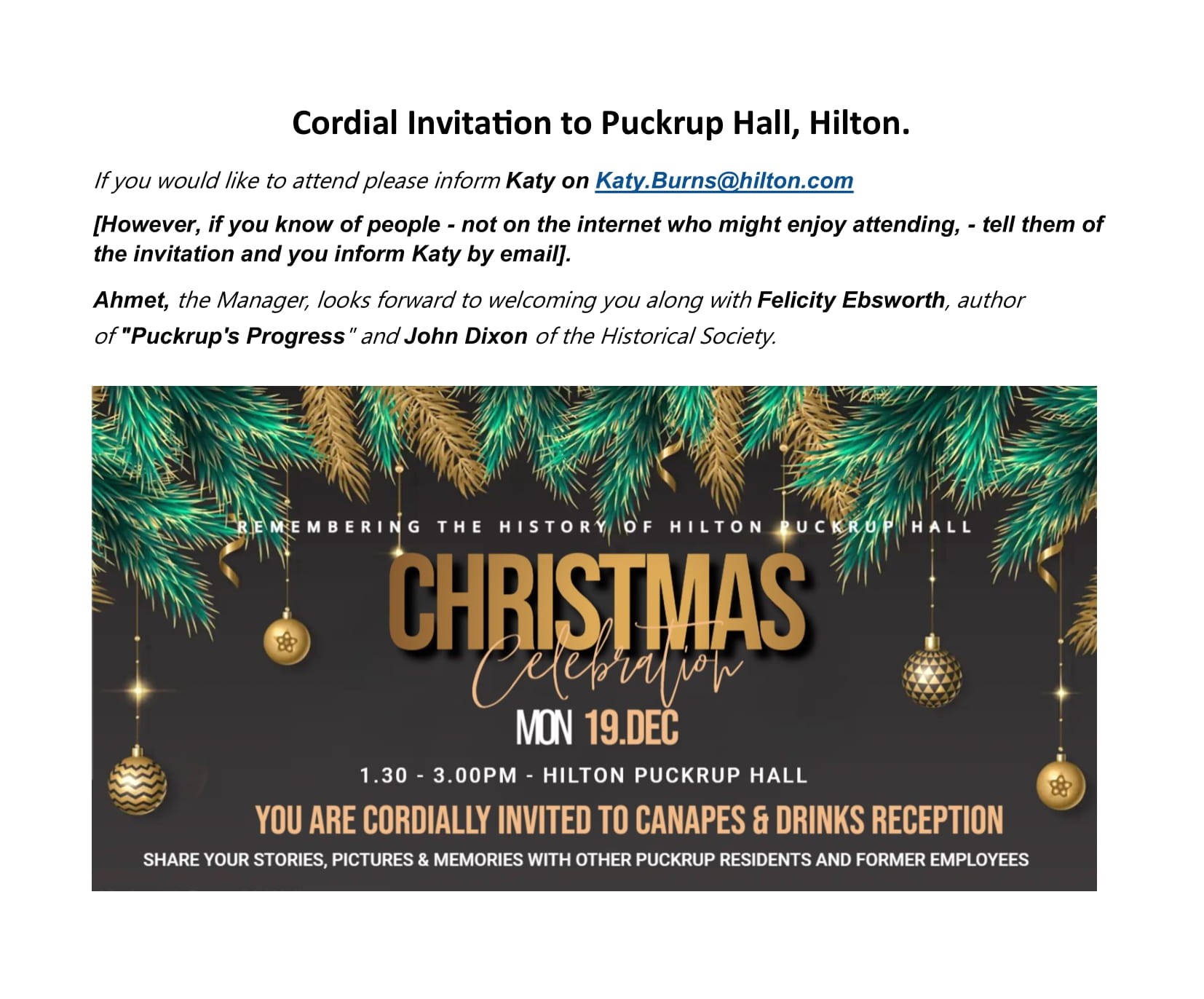 John Dixon
Queen Elizabeth II 1926 - 2022
As we gathered for the committee meeting of Tewkesbury Historical Society last night, we learned the sad news of the passing of our sovereign, Queen Elizabeth II. The Queen represents what Churchill, in the year of her coronation, described as the mysterious link, the magic link, which unites our Commonwealth and nation. For many of us, seventy years on, Her Majesty is also a link to generations past, a symbol of continuity. We express our deep condolences to the Royal Family for the loss of their - and our - Queen.
God Save the King.
[Click on Read More for Tewkesbury's Queen - Memories compiled by the THS President, John Dixon]
September 2022 Meeting
[Photo shows: Adrian Buckmaster, George Dowty, Martin Robins,]
Cliff Day
We are sad to relay the news that our surviving Joint Life Member, Cliff Day, passed away at Ashchurch View Care Home on 30 June 2022, aged 88.
The funeral will take place at 11.am on Tuesday 19 July 2022 at the Parish Church, Bushley, GL20 6HP and parking is available nearby by the Parish Rooms.
The photograph shows Cliff with his late wife, Margaret, who died in 2019.
Jamie Fraser
Your committee often asks for 'younger' members to join us – Jamie Fraser, then a mother of one primary school age pupil, did so and inspired us into offering a Historical Treasure Hunt for primary school children during May 2016 - Jamie is inevitably the Queen in the photo! It was very successful – but sadly for us Jamie and her family then returned to the USA. We have kept in touch with Jamie, and she has joined us when we used Zoom during Covid – an unexpected bonus! We were delight recently to act as a referee for her application to undertake further University Studies while bringing up her now two young children.
Very best wishes, Jamie and family!
Anchor Pub Talk
Woodard History
winner, Joanne Raywood, gave a talk on 'A Day on the Ham'.
Mention was made of horse racing on the Ham, click on the link for a full account of the
Tewkesbury Races
.
Commonwealth War Graves Commission Tour
Tewkesbury Cemetery contains a number of Commonwealth War Graves from WWI, WWII and later.
John Dixon has been asked to lead a tour to let you know more about these graves.
It starts at 11.00 on Saturday 28 May 2022 meeting at the Cholera Memorial [picture attached] near the entrance and will last about 90 minutes maximum.
All tours are free and booked through Eventbrite and you can book online via the website:
www.cwgc.org/tours
.
Bookings for tours close two days before the event, on 26 May 2022.
You can park at the Borough Council near the Swimming Pool.
Our Late, Notable Ukrainian Resident, Powlo Kostiuk
We were very pleased when Alan Snarey, aided by his wife Wendy, interviewed Powlo in 2012, and we published an article based on the interview in THS Bulletin 22 (2013). [
click here to read
]
In February 2022 it is a suitable time to write about a Ukrainian, who lived and worked in our midst for 40 years. I cannot find the actual date, but Powlo died after this interview – he was then aged 86 and had endured a hard – but happy - life, as you can read. He was honoured by having a tank named after him and has worked at Ashchurch Camp.
Results of recent Tree-Ring Dating for Tewkesbury Buildings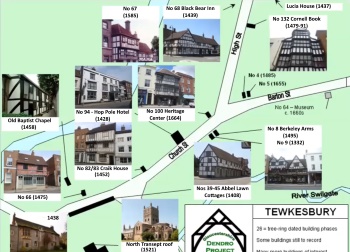 The results are in! During 2020 prominent Tewkesbury buildings were surveyed and tested for tree ring dates by Dr Andy Moir and his team at the
Gloucestershire Dendrochronology Project
. A fascinating talk was given on the 13th of March which can viewed on the
Friends of Tewkesbury Abbey website
. This extremely accurate process can give dates down to the season and since green wood was preferred by medieval builders, we can be fairly sure that the year they were cut down was the year (perhaps the next) when the wood was used to construct the timber frames and roofs.
1832 Cholera Epidemic in Tewkesbury

One of our members, Dr Peter Raggatt, who is a retired NHS Clinical Biochemist at Addenbrookes Hospital and Lecturer in Cambridge University School, was moved to research and write an article about this epidemic with its comparisons with the present pandemic. [see attached PDF above]
It links in with previous research on Cholera in Tewkesbury.
Such was the impact of these two epidemics on the town that a monument was commissioned which now resides in the Cemetery, adjacent to the 'Cholera Pit' where many victims received a mass night burial [see attached].
Although John Snow, clean water for the Mythe Waterworks and improved housing conditions have ensured that 1849 was the last appearance of cholera, the brutality which occurred in World War II Japanese POW camps caused the death of several Tewkesbury soldiers of cholera in 1943-44. Here is a biography of one of them, Frederick Key.
Smallpox was another medical curse of the18-19th centuries but by the late 19thC vaccinations were made compulsory and a significant number of people in Tewkesbury became anti-vaccination. For more on this familiar tale, see Martin Holt's award winning article.
History is always so topical!
Cemetery and Burials database for Tewkesbury
Over the years we have collated information from the various burial grounds in the town and now is the time to release a one-stop location for all of them on this site. The new
Burials Database
in our Research section tries to do this. There is also an
accompanying history and guide
to finding the resting place of persons buried in the town. There are currently an impressive 18,564 records. For the decades 1841 to 1881 we can also link to the
Census Database
(not guaranteed they are same people)
Two large scale maps of Tewkesbury from 1811 and 1880
We are proud to present two maps on our site using new zoom and pan technology.
We have the 1811 Enclosure Map of Tewkesbury and the huge 1:500 scale map of Tewkesbury created in the 1880s, both full of amazing detail. Use your mouse wheel to zoom and left mouse to drag.
Even more Census Data
We are pleased to announce that the Tewkesbury Census Data for 1841 to 1891 has doubled in size. We now have 37,608 people spread over 9,575 property records. Take
a look here
.
---
---
---
Bulletin 31
Click
here
for a preview.
---
---
---
---
---
---
---
---
---
---
---
---
---
---