1856 - Weaver to Moore
(a) Abstract of Title 1856 Thomas Weaver and Benjamin Thomas Moore for house in High street [117 – 118 High Street]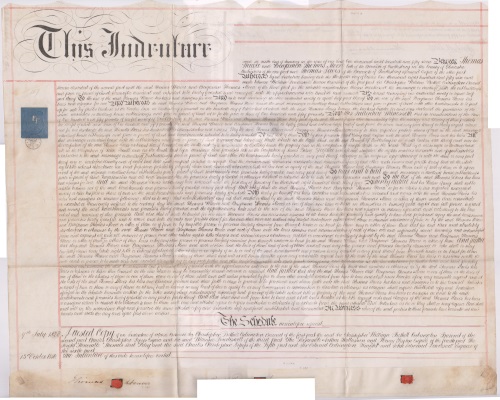 1828:- Indenture dated 8th / 9th July 1828 by Lease and Release and Settlement between:-
Sir Christopher Bethell Codrington bart deceased
Sir Christopher William Bethell Codrington bart – (then William Bethell Codrington esq.)
Charles Christopher Pepys esq and William Dowdeswell
The Hon. Arthur Thillapen and Henry Puston esq
The Rt Hon. Thomas lord Foley and said Charles Christopher Pepys esq
Sir Edward Codrington knight and John Edmund Dowdeswell esq
ALL THOSE SEVERAL MESSUAGES, tenements or dwelling houses with outhouses, offices, yards, gardens and appurtenances belonging situate in Tewkesbury and then in the several tenures of:-
Francis Baker; William Beazer; William Batchford; Matthew Baker; Thomas Bannister; James Crump; Francis Chapman; Charles Chandler; Samuel Coldrich; Richard Day junior; John Davis; Sarah Edgecumbe; Mary Huntley; Robert Hanford; Hampton widow; Thomas Hayward; John Hartland; Philip James; John King; Richard mann; James Matthews; Jonathan Oaker; William Potter; Ann Pendry; Betty Price; Thomas Stephens; Thomas Stephens junior; William Skeavington; Thomas Sharpe; M. [Mr?] Steward; [blank] Townley; W. William Tomkins; John Turfield [Trenfield?]; Mr Tarrett; Josh Wills; Margaret Woodward; John Woodward; Thomas Wass; Stephen Webb; Mr Winterbotham; Henry Webb and William Garnall or their respective undertenants and all and singular other hereditaments etc. late belonging to Sir William Codrington deceased which were devised in his Will 19th January 1789 to use of Sir Christopher William Bethell Codrington with it being lawful for Charles Christopher Pepys and William Dowdeswell or the survivor of them on request of Sir Christopher Bethell Codrington during his life and after his decease whoever was 1st tenant of the manor to absolute sale of any part of the hereditaments etc.
21st January 1836 – The said Charles Christopher Pepys was created Baron Cottenham
The said Sir C.B. Codrington died having the said Christopher W.B. Codrington now Sir C.W.B. Codrington surviving
29th April 1851 – The said Lord Cottenham died leaving the said William Dowdeswell [as trustee?]
By Indenture between:-
said William Dowdeswell
Sir Christopher Bethell Codrington of Dodington Park
Thomas Weaver and Benjamin Thomas Moore of Tewkesbury
Reciting indenture of 8th / 9th July 1828 and reciting that Sir C.B. Codrington died in February 1843 and Sir C.W.B. Codrington by virtue of limitations contained in the said Indenture became the first tenant for life
And reciting that Baron Cottenham died in April 1851 and William Dowdeswell with consent of Sir C.W.B. Codrington as 1st tenant for life contracted with said Thomas Weaver and Benjamin Thomas Moore for absolute sale to them of the hereditaments intended to be granted for £1100.