A Noble Band of Heroes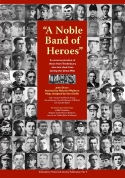 With support from the Heritage Lottery Fund, Tewkesbury Historical Society published its book, A Noble Band of Heroes on 7 November 2015 - a history of all those from Tewkesbury who lost their lives because of the 'Great War'.
Now that all copies of the initial print run have sold we are pleased to release the book as a PDF document. Right click the link below to download.
The complete book. 11Mb
Thanks to our collaborators.
A list of those who have biographies featured in the book.
Book updates: Pte J. Cole [195]
A list of those not commemorated but who are featured on our extended roll of honour.
[some of these names were added to the memorial in 2018]