1760 – Lease and Release – Ashmead and Welsh to Nutt Kedwards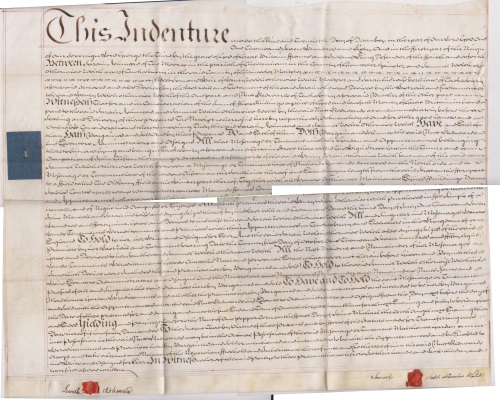 On Cover:- "
Old Writing 114 High Street
"
Release Mrs Sarah Ashmead and Samuel Welsh to Mr Nutt Kedwards -
also:-
Assignment of Mortgage Term - Edward Ransford to Thomas Waldron
Indenture of Five parts between:-
Sarah Ashmead of the Moores Cheltenham spinster
Samuel Welsh maltster (eldest son and heir of Henry Welsh maltster and Sarah his wife both late of Tewkesbury deceased and also devisee by last Will and Testament of said Sarah who was devisee of last Will and Testament of said Henry Welsh)
Nutt Kedwards of Tewkesbury butcher
Edward Ransford of Gubshill gent
Thomas Waldron of Tewkesbury staymaker
Whereas by Lease and Release dated 14th / 15th July last past between Samuel Welsh and Sarah Ashmead reciting Indenture of 12th July between:-
Sarah Ashmead
Samuel Welsh
Edward Ransford
It is recited that by Indenture dated 9th April 1746 made between:-
Lawrence Cox of Tewkesbury yeoman (executor to last Will and Testament of his late father Lawrence Cox deceased)
Said Henry Welsh and his wife Sarah
Sarah Ashmead
It is witnessed that said Henry Welsh and Sarah did grant unto Sarah Ashmead – ALL THAT MESSUAGE or Tenement with appurtenances and Garden in occupation of John Clifton the younger then of Henry Welsh – between a Messuage then or late of Richard Symonds on North and a Messuage of widow Clifton on South – to hold to Sarah Ashmead for 400 years subject to a proviso of redemption of Henry Welsh to pay £200 with interest by a date since past
And said Indenture of 12th July last also reciting that said Henry Welsh sometime after 9th
April 1746 departed this life having made his Will dated 3rd July 1749 whereby he gave and devised to Sarah his wife – all his Messuages etc. forever - -
And that Sarah the widow, sometime after her husband, died having made her Will dated 21st October 1758 and gave and devised to her son Samuel – All the residue of her Messuages etc – and said mortgaged premises were part of the Messuages given to Samuel – and that the principal money of £200 remained due to Sarah Ashmead – and that Samuel Welsh having occasion for further £200 – it was agreed that for better securing the £200 and the new advance of £200 – all the premises should be assigned to Edward Ransford esq.
It is witnessed that 12th July Sarah Ashmead set over to Edward Ransford the said Messuage – to hold to Edward Ransford for remainder of the 400 years IN TRUST for said Sarah Ashmead.
It is witnessed by Indenture of 15th July last that Samuel Welsh did grant to Sarah Ashmead the premises to hold to Sarah Ashmead forever – subject to redemption proviso to pay £400 with interest by 15th January next
AND WHEREAS Nutt Kedwards contracted with Samuel Welsh for purchase of said Messuage or Tenement, Malthouse and premises – being only part of the premises comprised in recited mortgage AND in regard Joseph Fryzer, bricklayer, who hath purchased rest of such mortgaged premises and hath given Sarah Ashmead security for her money in the room of said premises contracted for by said Nutt Kedwards – and she hath agreed to join with said Samuel Welsh in conveying premises to Nutt Kedwards.
AND said Edward Ransford shall assign the same to Thomas Waldron for the remainder of years to come now vested in him In Trust
Now this Indenture witnesseth that for £294-15s-0d to Samuel Welsh by Nutt Kedwards - The Messuage, Malthouse and Garden mentioned to Sarah Ashmead in Indenture dated 14th and 15th July last is conveyed to Nutt Kedwards
Signed by: Nutt Kedwards; Edward Ransford and Thomas Waldron