Robert Charles Woodard, 1929-1996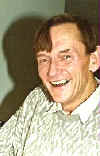 Many members may well not have noticed Bob Woodard at meetings. He was a very self-effacing man, but his quiet contribution to the development of historical research using computers has been, and surely will be, of invaluable service to future generations of local historians.
While unwilling to write learned articles, he passionately wished to share his knowledge with other researchers. It was the help, which he extended to Sixth Formers undertaking Local History research projects, that first allowed me to make his acquaintance. I was introduced to his magnificent database, which seemed to reveal the hidden history of Tewkesbury.
Bob was an innovator in the use of computers for historical research. Inspired by a desire to find out as much as possible about the history of his home in Gravel Walk, he started to record onto his database as much detail as possible concerning the Oldbury and High Street areas. He mapped the town, identified the buildings and incorporated census data. He also became an expert on the numbering of buildings in the main streets, a forbidding task since they have been changed all too frequently. More recently, having updated to using CD Roms, he took photographs and scanned them onto CD Roms, so that one can trace recorded buildings and pictures as well as data. The beauty of his database is that all names and buildings can be cross referenced and their lineage followed through time.
The software that fascinated me was the Blackwell Scientific Idealist Database. Put simply, it means that one can incorporate many lists of information into one giant database. If, therefore, one is seeking details about a certain person, then a search will be made through every list of the database, and the results can then be transferred to a word processor for editing, or they can be printed.
When our Town Library acquired it's own P.C., it was natural for Bob to allow his census data information that he had so painstakingly collected for the benefit of researchers to be used. Other information, such as the index to the newspaper, The Tewkesbury Register, will gradually be added to the database, creating a very valuable source of information for us all to use.
Bob accumulated a lot more information, and it will be to our eternal gratitude that he willed this information to the Library as soon as his talented, computer literate offspring, Clare, can transfer it onto a CD Rom.
I always wondered how Bob acquired this expertise with computers but, because of the nature of his work, this is not an easy problem to solve. Born and Grammar School educated in Eastbourne, this very gentle man had started his career first in the Army and then in Metropolitan Police Force. He transferred subsequently to GCHQ, being trained at Bletchley Park (famous for cracking the Enigma Code), and then serving in Germany and Cyprus, where he was wounded. It is thanks to the transfer of GCHQ to Cheltenham that Bob and his wife, Pauline, decided to set up home in Tewkesbury.
It is not surprising that it was Bob who initiated the use of PCs at GCHQ. He requested one to improve his own work, and their use soon became commonplace in that 'high-tec.' establishment. Although he had been both an excellent swimmer and a pistol shot in his youth, he was aware from the age of 29 that he possessed a heart weakness; he had a triple heart by-pass operation in 1980, and retired from work in 1989, following the sudden death of his wife in February that year.
As so often happens, out of tragedy and hardships benefits for society as a whole arise. Bob devoted much of his leisure to adapting his expertise with computers to the needs of historical research and to building up his encyclopaedic catalogue of information.
At the Society's AGM in 1996 it was decided to make Bob our first honorary member. At that time, it was evident that Bob was very ill, but it was still a shock when he died suddenly in June. I was privileged to visit him in the week before his death. I found him a little better and in excellent spirits, talking effusively about his plans for the cataloguing of yet more information. That is how I shall remember him.
I was moved, however, when listening to the eulogy spoken by his son-in-law that Bob "was so proud when, a few weeks before he died, he was made an honorary of the local historical society."
To encourage others to undertake research and write it up for public consumption, this Society has decided to award in memory of Bob Woodard a prize each year for the best piece of research published in the Bulletin. No-one deserves these two honours more, since work will be appreciated for years to come.
This obituary by John Dixon was published in Bulletin 6 (1997) pp1-2.
Bulletin articles by R.C. Woodard
Work on the Tewkesbury Census
Bulletin No 1 (1992)
Nelson Street and Nail Alley
Bulletin No 2 (1993)
Letter to the Editor
Bulletin No 3 (1994)
A Journey to Scotland with Miss Moore
Bulletin No 5 (1996)