Meetings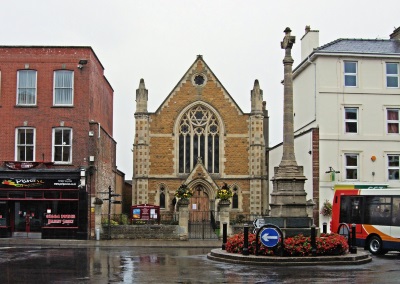 The Society generally meets on the 3rd Thursday of each month, September to May, at 7.45 pm - the venue is:
Tewkesbury Methodist Church, The Cross, Church Street, Tewkesbury, GL20 5PA Click HERE for map and directions.
You can use the front entrance or the rear in Swilgate Road where there is also a public car park. Click HERE for information concerning wheelchair access. The exception to meeting at the church is the January Social Evening which is often held at the Hop Pole.
All are welcome: Members - £2.50, Visitors - £4 (includes tea/coffee & biscuit). [AGM free]
Zoom online events

For those events which will be held on Zoom we have a
three page guide here
.
The Zoom program is fairly simple to install and work with - designed for non technical people. You don't need a working microphone or camera yourself to view the event in the "meeting". Hope to see you there!
| | |
| --- | --- |
| | Railway Heritage Walk |
| | THS - A Torment of Traitors in the Cold War |
| | Tewkesbury Festival of Light 2021 |
| | THS - 'German Grand Fleet, 1918' by Paul Barnett |
| | THS - Social Evening - for THS Members and their Guests |
| | THS - 'Restoration of Abbey Cottages' by Simon Lawton |
| | THS - 'Dendrology Report' by Andy Moir |
| | THS - 'King Edgar - My Favourite Anglo-Saxon King' by Dr. David Pegg. |
| | THS - Annual General Meeting |
Zoom Meeting 25 March 2021
A very successful 'Zoom' meeting was held on 25 March.
Author and historian, Nigel Messenger, gave a very well received talk entitled 'A First World War Love Story'.
Click
here
for a synopsis.
November 2020 - Time and Tide

On 19 November, John Dixon presented via 'Zoom' what was meant to be Jon Talbot's talk on Time and Tide (Tewkesbury photographs related to the rivers). This is a PDF of the slides used in the presentation (reduced quality to make accessible). David Bagley then quickly came up with some excellent follow up research. We are hoping members will keep digging for us to learn more.
THS 29th Season - First Meeting
All The Queen's Horses. Terry is currently the Stud Groom and Manager to Her Majesty The Queen, at The Royal Mews, Windsor Castle. He has held this position for 25 years after retiring from The Riding Staff, of the Blues and Royals Regiment, Household Cavalry, having started his career as a professional jockey riding mainly on the flat.
March 2019 Meeting
Canal Ladies: The Lives of the Narrow Boat Women, their Children and their Crafts. We also launched our latest Bulletin along with a reprint of John Dixon's in demand Railways book.
November 2018 Meeting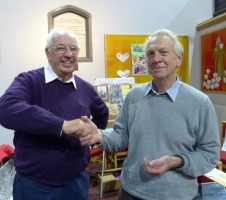 THS Life President, John Dixon, with Peter Dawson who gave an interesting and well attended talk on 'Burgage Plots in Medieval Towns' at our 15 November meeting.