Savings Bank Alley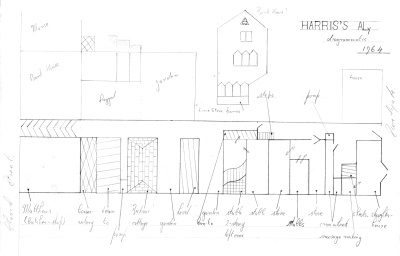 Among a sheaf of paper in the museum's files are a couple of neat pencil sketches entitled 'Harris's Alley 1964'. They are diagrammatic and not to scale. They show the alley as containing only one cottage, but it includes a stable, which could well have been a cottage once. The houses at the front, Matthews' Butchers and Bank House, on Church Street, identify this as Savings Bank Alley, a court which has long ceased to be a public right of way.
The sketches themselves have an interesting provenance. They were drawn by Bryan Linnell, once a familiar name in Tewkesbury. He and Edna, his wife, managed the Museum for thirty years between them. Passionate is an overused word, but it accurately describes Bryan's interest in retaining the remnants of a rapidly-changing, for the worse he felt, Tewkesbury. Bryan took it upon himself to carry out a survey of the whole town and submitted it to what is now known as English Heritage – This is why we have so many listed buildings in Tewkesbury.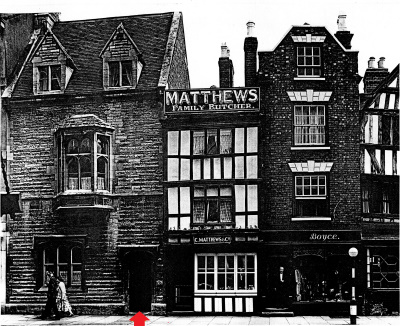 Cliff Burd, in his 'Lost Alley's' book writes that Harris's Alley was named for a corn merchant living in the 'front House'. The 1841 census, which doesn't show house numbers, has a Benjamin Harris, corn merchant, and family living in Church Street. This could well be him. Earlier, in the late eighteenth century, there is a record of a John Charlewood, which maybe explains it once being Charlewood's Alley. It became known as Matthews' Alley, when a butcher of that name took the front shop, though its official name seems to have been Savings Bank Alley. In 1900, when the property was for sale, it had been occupied by Edward Harper, Butcher, for many years. The plot included a slaughterhouse at the Swilgate Road end of the alley and a wooden cart shed on the banks of the Swilgate. The cottage in the alley, Bicknor Cottage, was let separately. In 1902, Charles Matthews bought all the property. The slaughterhouse was used up until the war, when rationing stopped a lot of small slaughterhouses operating. Charles died in 1944 and his daughter Veronica took over, a pioneer woman butcher, and ran the shop until she retired. The furthest she went from Tewkesbury in her whole life was to Weston-Super-Mare for a holiday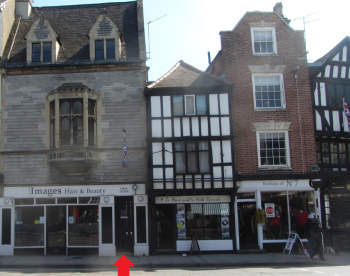 Unusually, the alley entrance is within the footprint of Bank House, 4 Church Street (now Images hairdressers) but the alley buildings are all behind 6 Church Street (now 'to Have and to Hold' Records). There is no sign of there ever being any buildings behind No 4. The plan view shows that 6 and 7 share the same burgage plot, so must have been a single property once. The buildings both date from the sixteenth century, so any agreement for access to the back must predate that. Bank House is two hundred years younger and of stone; a unique material for Tewkesbury. There is no information about the building that it replaced.
Another oddity is the numbering. Bicknor Cottage, in the alley, is numbered as 5 Church Street, which must confuse postmen. This appears to have been the only alley cottage. The 1884 Ordnance Survey map shows the land between it and the building on the Swilgate as gardens. All the development shown in Bryan Linnell's sketch, including the stables, must post-date this.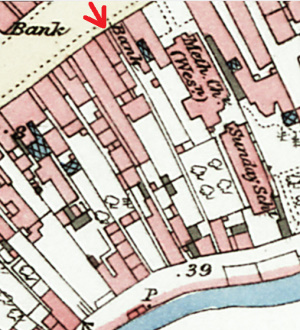 Even a hidden alley didn't escape the Council's clearance plans. In 1939 they agreed to withdraw the demolition order for Bicknor Cottage on the owner's undertaking to carry out agreed repairs. The cottage is still there, so the Borough Surveyor must have been satisfied with the work. The Swilgate end of the alley fell to developers, though, It was demolished in 1973 in order to build the flats which also affected the Swilgate ends of Ancill's Alley, Lilley's Alley and Yew Tree Cottages.
If this quiet corner ever was a public walk-way, which its name and the blue brick paving suggest that it was, that ended for ever in 1973.
Census Data 1841-1891
Savings Bank Alley: Church Street
1861 Ref-RG9/1806
Henry Green; Head; Married; Male; 51; Sailor (or Tailor); Bredons Hardwick Worcs.
Eliza Green; Wife; Married; Female; 44; Born Tewkesbury Glos.
Clara Creese; Adopted; Single; Female; 21; Born Tewkesbury Glos.
Savings Bank Alley
1871 Ref- RG10/2679
George Purser; Head; Married; Male; 36; Foreman At Shoe Factory;born Tewkesbury Glos.
Ann Purser; Wife; Married; Female; 38; Foremans Wife; Born Tewkesbury Glos.
William Purser; Son; Single; Male; 14; Cliker? Born Tewkesbury Glos.
Number of records found: 2