Then and Now
Tewkesbury 'Then and Now' Volume V 2017
First published in 2012, this Annual has raised £785 for the benefit of the
Town Museum, the Victoria Pleasure Gardens
,
Combat Stress
and the
Friends of Tewkesbury Hospital
. It is a select anthology of monthly articles, written on historical topics for
Tewkesbury Direct
. This volume has been expanded to 36 pages and offers a PDF on DVD of the original
Doddo Defiled
.

Contents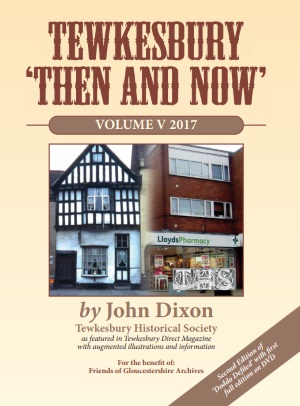 A. Doddo Defiled!
B. The Planners' Cunning Plan!
C. 79-81 High Street: a Georgian Bastion
D. 81-83 High Street: a 19thC. Redevelopment
E. 84 High Street: a Confusing Development
F. 85 High Street and Bedfords Court
G. 86 High Street and Steels Court
H. 87 High Street and the 'Infamous' Double Alley. Map of the High Street comparing 1883 with the New Development
I. 88 High Street: without an Integral Alley Glovers Alley with 89 High Street
J. 89 High Street: the 'Famous' Nellie Jones Mayalls Alley with 90 High Street
K. 90 High Street: The 'Defiled' Doddo!
L. 91 High Street and a Happy Return? Waldron's Court
M. Old Sun Street and the Market Shops
N. 101 High Street: Manufactory and then Car Mart
O. 102 High Street: Our 'First - and Forgotten - Railway Station'