Tewkesbury Town Burials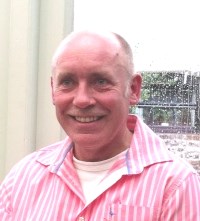 Mike English first became known to us when he attended my sessions for Computing and Family History. However, he was already very knowledgeable and has contributed web addresses to our website. His researches led him to make contact with the Borough Cemetery authorities, as a result of which they commissioned him to undertake the transcription of their one paper copy of the records to an electronic version for the benefit of posterity and the Woodard Database. Mike has now completed this assignment to 1908; he has kindly presented here the results of his intimate knowledge of these registers. — John Dixon
1870: Charles Dickens died, the first penny-farthing was made, the Cutty Sark set off on her maiden voyage and Dr. Thomas Barnado sets up his first home for destitute boys in the East End of London. That same year, 153people were buried in the Tewkesbury cemetery, opened in 1858, and of them, 80% where children under 10 years of age. 51% of those were under the age of one![1]
These are just some of the interesting features that I have come across, whilst transcribing the Tewkesbury Cemetery Burial Registers. It started with a general question to John Dixon about researching my own family history:
"How do I know if a relative is buried in the cemetery and are there any records which are available?"
Tewkesbury Borough Council holds these records and, with their help and consent, I set about transcribing the records on to an 'Excel'
[2]
database that will be available and fully searchable for the town. This set of fifteen large, leather-bound books, with their sometimes peculiar and illegible handwriting, was our history. Just to hold, touch and smell them give a great sense of wonder. I believe this
is
our town's history; the people that lived and died all laid the foundations for what we have today. The sexton made an excellent record of the burials but was, perhaps, 'only human'. Name variations, omitted burials (later to be added!), errors amended along with notes on the costs, all in pencil; add to the fascination of these books.
The first recorded burial, born 10 January 1857 in Unicorn Alley, Tewkesbury, was to Ann Gyde a single woman. She was born in Painswick in 1830 and, after working as a domestic servant in Cheltenham, came to settle in Tewkesbury.[3] There is no trace of the boy's father but Ann did go on to marry Thomas Bullock of Tewkesbury, later settling in Worcester.
This first entry has interesting and often-repeated points:
(1) Names: Showfield is actually a mistake: this is a good start. Schofield appears on the birth certificate (although there is still no clue as to the father!)
(2) Age… or, often, lack of it: 80% of the burials in 1870 were children under the age of 10, a fact that is consistent in those early years of the cemetery. In the first 12 years alone, 551 or 43% were under 10 and of those 343 or 62% were less than 1 year of age!
(3) Occupations: Single women and watermen have a higher proportion of these deaths than most other recorded occupations: poverty and the general living conditions seem to be of blame. Lack of basics in housing, health care etc. did nothing to lessen the high infant mortality in the town; but, on balance, there were a good many people living to some fine old ages!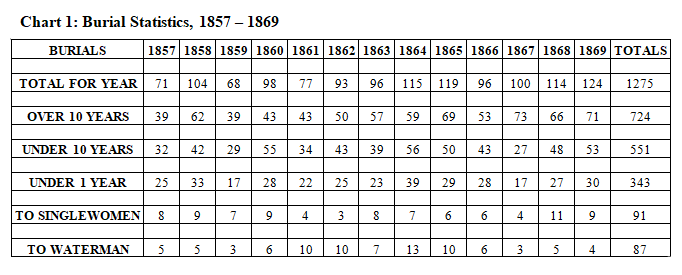 The chart on the right, made from the above statistics, shows the constant year on year divide between adult and child burials.
Unconsecrated Burials
A number of burials had the word 'unconsecrated'. handwritten in an extra column. Initially I was lead to believe that these were people who had not got on with society, murderers, convicts, suicides etc… . However, on looking at the names, ages, occupations, no pattern emerged, young, old, male, female, with no obvious link. A Wesleyan minister's two young children should have given a clue, but an e-mail from Tony Skelsey laid the mystery to rest:
"Your observation about burials in unconsecrated ground may be of great importance. The Quaker burial grounds in Saffron Road and St. Mary's Lane were, I suspect, closed to further burials when the Gloucester Road cemetery was opened in 1857. Quaker burials are in unconsecrated ground – it is their belief that all ground is God's ground and any suitable place will serve for the purpose of burial. There may be other denominations/creeds which have similar beliefs. It appears that exclusively Wesleyan, Baptist or Independent Ministers performed the burials in unconsecrated ground."
This advice reminded me that the purpose of Cemetery Chapel building was originally two-fold: the present Chapel was Church of England but, on the other side of the central arch – the area now used as a maintenance store and office – was the Nonconformist Chapel.
Murdered
| | | | |
| --- | --- | --- | --- |
| UNKNOWN CHILD | 26 JAN 1876 | 1 week | Murdered |
A pencil entry in the right hand column was a mystery; usually this column has entries referring to the cost or type of grave required. Another visit to the library and the database revealed an entry in the Tewkesbury Register referring to the Inquest: "Newly born baby strangled and dumped in manure heap – verdict of murder by person or persons unknown".[6]
Prostitute
| | | | | |
| --- | --- | --- | --- | --- |
| EDMONDS | MARY ANN | 28/06/1862 | 22 | Prostitute |
This was as the burial was recorded in the register! There are many occupations, relationships and marital references carefully listed in the column provided, but this was rather too frank!
Families
Having written the registers by hand on to a sheet and then transferred that on to a database, names become familiar, many of the same family may appear on the same page, or over several. The most interesting task was putting the database into alphabetical order; this enables you to see the occurrence of a particular surname and also the relationships to others within that group.
| | | | |
| --- | --- | --- | --- |
| | | | |
| FRANCIS THOMAS | 11 APR 1857 | 6 mths | Son of WILLIAM ANDERSON, fisherman |
| JAMES | 6 FEB 1862 | 70 | Fishmonger |
| WILLIAM | 5 JAN 1865 | 6 yrs | son of JOHN ANDERSON, fisherman |
| ANN | 12 APR 1865 | 40 | wife of WILLIAM ANDERSON, fisherman |
| JOHN | 29 MAY 1866 | 70 | Labourer |
| WILLIAM | 30 SEP 1868 | 24 | Waterman |
| ANN | 30 MAY 1870 | 47 | wife of WILLIAM ANDERSON, fisherman |
| CHARLES | 29 DEC 1870 | 7 yrs | son of WILLIAM ANDERSON, fisherman |
| CHARLES | 5 JAN 1871 | 3 yrs | son of WILLIAM ANDERSON, waterman |
| CHARLES | 16 JAN 1875 | 66 | Waterman |
| THOMAS | 1 MAY 1882 | 4 yrs | son of JOHN ANDERSON, laborer (sic) |
Occupations
Labourer, waterman, fisherman, framework knitter, stockinger, shoemaker, carpenter, brick maker, corn dealer, coal merchant, stocking maker, nailor, brewer, railway engineer, miller, millwright, painter, are just a few of the listed occupations. This gives a picture of the changing industry in Tewkesbury.
Names
Just a few examples from the early registers, using the Woodard Database to add some biographical detail:
FREDERICK SKULL
NESTA KITE; mentioned twice: daughter of stone dresser Charles, the first infant died in 1861, the second in 1862 – both aged three weeks, in March.
BLANCHE FIRKINS: 7 month-old daughter of Joseph Firkins, wine merchant in 1861. 7
JESSE JAMES: mentioned twice: the first son of William James, "stockinger", died aged 2 years in 1860, the second at 3 months in 1861. With his wife and three other children, he lived in Fish Alley. 8
LYDIA ECKLEE: aged 89, she was the wife of James Ecklee, a labourer.
THOMAS SEXTY: a fruitier aged 39 but does not appear on a census return.
CHURCHILL HENRY ROMNEY: was the six week old son of solicitor Churchill Romney who died in 1869. The father died, aged 40, in 1879.9
TRAPHENA MANN: a widow born Webb in Ashchurch, she died in 1869 aged 83. 10
JAMES THORNILOW HORNIBLOW: "Professor of Music" & clothier whose infant daughter died in 1870. 11
TRAYNAT BIRCH: infant daughter of John Birch, Tinplate Worker & Beer Retailer of the Sailors Return, Brays Court.12 Many of his children died in infancy.
I have now completed the index to July 1908 with some 5,124 recorded burials, 51 years from the opening of the cemetery. A database of these burials now exists in the Tewkesbury Borough Council offices and also in the Town Library. 13
These records are just a reference point, which alongside other references, such as census returns, local registers, etc should help with research and building the bigger picture. In respect of the privacy laws, this is as far as I can go at the moment, but the database will be added to in the future.
References
(85 & 44)
'Excel' is easily transformed into the 'Idealist' format for the Woodard Database. (And now online - Ed)
The Woodard Database shows that she revealed to the 1861 census enumerator that she was single and that she had another son, Henry, then aged 2. (Census 1861-b61062)
Official position TBC
'Non-Conformists' were so named in the sixteenth century because they refused to accept the beliefs and laws of the Church of England. Examples were given by Mr. Skelsey.
29 January 1876 p1/4.
WD Burial Ref: 382. Landlord of the Shakespeare public house, he is frequently mentioned in the database.
Census 1861 Ref-RG9/1806.
Refs. 1232 & 2267.
Ref. 1255.
Ref. 1411.
Ref. 1623 & Morris Directory,1876
In 'Excel' format.